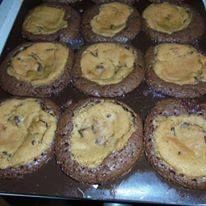 PICK UP ONLY!
Brookie - Chocolate cookie baked inside of a brownie. What could be better? You know you want one or two or three.
Individually wrapped
(Bleached wheat and malted barley flour, niacin, reduced iron, thiamine mono-nitrate, riboflavin, folic acid),cocoa, butter, eggs, chocolate chips, salt, sugar, brown sugar, vanilla,  baking powder, baking soda.   Approx. 6 oz.