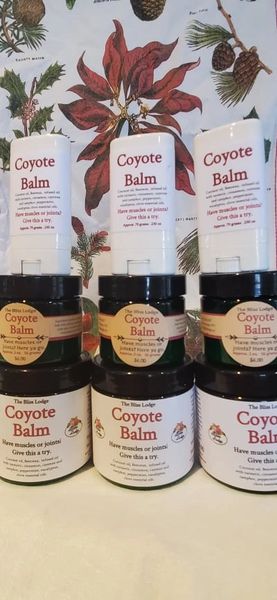 Now in 3 sizes!   
Regular green screw top - 2 oz.       $6.00

Large green screw top - 4 oz.          $10.00

Twist up Applicator  .7 ml.               $4.50
Coyote Balm works wonders on arthritis, sore muscles, carpal tunnel and general aches and pains. A great tension buster on tight muscles too.  Keep away from sensitive areas and out of eyes. Not for internal use. Check out the reviews!
Turmeric is commonly used for conditions involving inflammation

Cayenne

Has been reported to deplete substance P (the nerve's pain chemical).
There's some evidence that a cream containing
camphor
may help with osteoarthritis symptoms.

The antioxidants in
cinnamon
have anti-inflammatory effects.

Peppermint oil has been used externally to provide relief from muscle aches

Clove oil is used topically for pain relief.

Eucalyptus oil
is analgesic and anti-inflammatory in nature. 
"The statements regarding this product have not been evaluated by the Food and Drug Administration. This product is not intended to diagnose, treat, or prevent any disease."
Massage a small amount onto area that needs relief.
Ingredients:coconut oil, beeswax, turmeric, camphor, cinnamon, cayenne, peppermint-eucalyptus and clove essential oils. 

Always try a small patch to test for allergies.